Comforting reds to hunker down with through winter
We all need a reason to be cheer­ful right now, and my coping stra­tegy, along with warm knit­wear and chee­se on toast, invol­ves a nice glass of the right red.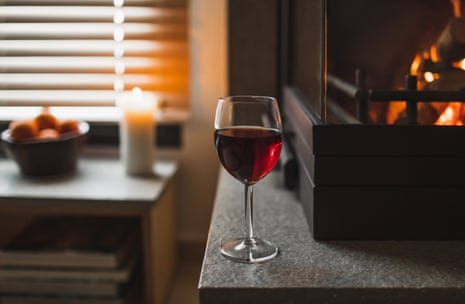 There's gene­rally not much to be cheer­ful about at this time of year, and in 2022 the­re are even fewer things than most. It's hard to think of a more depres­sing com­bi­na­tion of cir­cums­tan­ces, poli­ti­cally, eco­no­mi­cally and health-wise, on top of which it's sud­denly get­ting dark at 5pm. My coping stra­tegy is small treats: enve­lo­ping jum­pers, deep rugs, copious cand­les, chee­se on toast and a nice glass of red. In other words hyg­ge wine.
For tho­se trying to mode­ra­te their drin­king, it's about qua­lity, not quan­tity. By that I don't mean expen­si­ve wines, but the sort that are going to take you into your com­fort zone (hyg­ge, for tho­se of you who are unfa­mi­liar with the word, is the Danish term for cosy). In other words, the kind of wines you want to drink after an eve­ning out in the cold, whether that's wat­ching fire­works or stuck on a plat­form wai­ting for a dela­yed train.
Such wines are mainly full-bodied and higher in alcohol. You know, the usual sus­pects, though mal­bec seems to be lea­ding the pack the­se days. Gre­na­che, shi­raz and blends of the two with mour­vè­dre (GSM), cin­sault or carig­nan that you find in the southern Rhô­ne, Lan­gue­doc and the likes of Aus­tra­lia and South Afri­ca, which have suc­cess­fully adop­ted the GSM sty­le. Even basic Côtes du Rhô­ne is a hyg­ge wine in my book, and the Co-op currently has a decent own-label one for just £6 that totally hits the spot, though make sure it's the 2021 vin­ta­ge. Hyg­ge wine is all about fami­lia­rity, rather than the more eso­te­ric frin­ges of the wine world, though, that said, I was so smit­ten by the Arme­nian red in today's pick that I had to inclu­de it, not least becau­se it packs an impres­si­ve con­cen­tra­tion into its modest 13% ABV. I do envy tho­se of you who live near a Booths.
Some full-bodied reds such as caber­net, meanwhi­le, really need food to set them off. I find tan­nin a bit intru­si­ve outsi­de the con­text of a meal, so look for indi­ca­tions on the back label that the wine has been aged in stain­less steel or, more fashio­nably, con­cre­te (going back to the days when many wine­ma­kers didn't have access to expen­si­ve barrels).
Obviously it's a ques­tion of tas­te, but I think young wines are more quaffable/hyggable than old ones you might have stashed away and that are more of what the Ita­lians call a vino di medi­ta­zio­ne (con­tem­pla­ti­ve wine).
Oh, and to finish, a thought that might cheer you up: it's almost seven weeks until the shor­test day, then the eve­nings start get­ting ligh­ter. Not that I expect to be out of the hyg­ge wine zone until March.
Five wines for dark nights
Agra­mont Gar­na­cha 2019 £5.99 Lidl, 14%. Ripe, gene­rous, modern Spa­nish red that could even hand­le a curry.
Fin­ca Lalan­de Orga­nic Mal­bec 2021 £6.99 (on offer) Wai­tro­se, 14%. Grab this big, jammy mal­bec whi­le it's on offer (it's nor­mally £10.49).
Tas­te the Dif­fe­ren­ce Dis­co­very Collec­tion Châ­teau Auzi­nes Cor­biè­res 2018 £10 Sainsbury's, 14.5%. A gor­geo­us, spicy, syrah-domi­na­ted red from the exce­llent Lau­rent Miquel. Way abo­ve your ave­ra­ge own-label corbières.
Arme­nia Wine Com­pany Yere­van 782BC Red 2020 £9.50 Booths, 12.5%. Gor­geo­us, exo­tic red that's richer than you'd guess from its ABV. Think slow-cooked shoul­der of lamb.
Ras­teau Domai­ne Saint-Gayan 'Ilex' 2016 £15.75 Yapp Brothers, 14.5%. Clas­sic, hefty, spicy southern Rhô­ne – made for win­ter stews and casseroles.
Sour­ce: https://www.theguardian.com/food/2022/oct/28/comforting-red-wine-for-winter-fiona-beckett