Exploring sulphite-free Malbec with Domaine Bousquet
written by Agustina Abal | upda­ted August 17th, 2022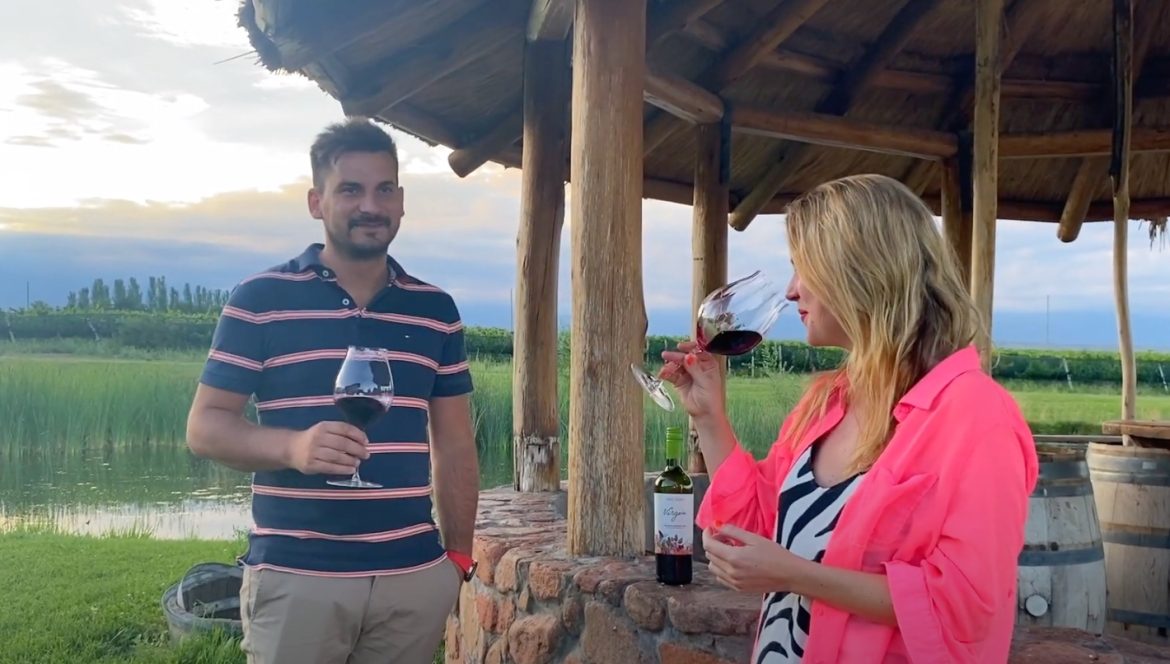 Have you ever tried sulphi­te-free Mal­bec? Rodri­go Serrano, wine­ma­ker at Domain Bous­quet in Uco Valley, talks about the con­cept behind Vir­gen and how he makes their natu­ral wines.
Bous­quet were one of the modern pio­neers of orga­nic wine in Argen­ti­na, and star­ted making this line of no added sulphi­te wines in 2018 with an inau­gral vin­ta­ge of 22,000 bottles. Today Bous­quet makes over 500,000 litres of sulphi­te-free wines, clearly pro­ving the­re is a big demand today!
Aman­da Bar­nes inter­views Rodri­go as they also tas­te Vir­gen Red Blend, a wine of Mal­bec, Caber­net Sau­vig­non and Caber­net Franc from Gual­ta­llary with no added sulfites.
Video highlights: Amanda Barnes interviews winemaker Rodrigo Serrano on sulphite-free Malbec at Domaine Bousquet
We are here in Domai­ne Bous­quet, one of the most impor­tant orga­nic pro­du­cers in Argen­ti­na and we are tas­ting your Vir­gen Red Blend. Can you tell me what the con­cept is behind Vir­gen in terms of 'sin sul­fi­tos' (no sulfites)?
The con­cept is that you can make a wine with no inter­ven­tion. We just bring the gra­pes from the vine­yards to the winery, we crush the gra­pes, and we make the fer­men­ta­tion. The pro­cess bet­ween the vine­yard and the bottle is made without our intervention.
We've just taken a tour through your winery, and I can tell that in order to be orga­nic you are a real per­fec­tio­nist when it comes to clea­ning and making sure that everything is very healthy. What is the role of sul­fi­tes in wine and how do you mana­ge to make a wine without adding sul­fi­tes and still get this beau­ti­fully clean, aro­ma­tic wine?
Sul­fi­tes [the addi­tion of SO2] are very help­ful in wine­ma­king. When you add sul­fi­tes you can con­trol [limit] the impact of micro­or­ga­nisms and oxy­gen on the wine.
In our case, becau­se we don't use sul­fi­tes for the­se wines we must take extra care about the details. This is my obses­sion. I pay atten­tion to all the details in the pro­cess to obtain the best qua­lity in the Vir­gen line and all our other wine labels.
I'm really enjo­ying this red blend in par­ti­cu­lar. I think what Bous­quet does really nicely is not only your Mal­bec but you also work beau­ti­fully with Caber­net Sau­vig­non and Mer­lot. Can you tell us about the varie­ties in the blend and why you've cho­sen them?
When we star­ted with Vir­gen we made a red blend of Mal­bec, Caber­net Sau­vig­non and Caber­net Franc. We feel that Gual­ta­llary has a very big poten­tial for Caber­net Sau­vig­non, Caber­net Franc, and Mal­bec, and for this reason we cho­se the­se gra­pes for this blend.
What is your favo­ri­te pai­ring for this wine?
I am a fan of pas­ta nor­mally, but with this wine I pre­fer red meat… And if it's on the grill, it is much bet­ter! An asa­do, always an asa­do!
Sour­ce: https://southamericawineguide.com/exploring-sulphite-free-malbec-with-domaine-bousquet/