This month fea­tu­res treats from Argentina!
The sultry tan­go dan­ce might come to mind when one thinks of Argen­ti­na. And when it comes to wine and food, Mal­bec and chi­mi­chu­rri sau­ce lead the way in crea­ting an enti­cing dan­ce on the palate!
Domai­ne Bous­quet is a family-owned winery and Argentina's lar­gest pro­du­cer and expor­ter of orga­ni­cally grown wines. It is loca­ted in the Gual­ta­llary Valley, high up in the Tupun­ga­to dis­trict of the Uco Valley, whe­re alti­tu­des can reach up to 5,249 ft. The winery was foun­ded in 1997 by wine­ma­ker Jean Bous­quet, ori­gi­nally from Car­cas­son­ne in South­west Fran­ce, whe­re his family expands four gene­ra­tions of winemaking.
Domai­ne Bous­quet is noted for its use of French and Argen­ti­nian wine­ma­king tech­ni­ques. French-born Anne Bous­quet, daugh­ter of Jean and Pre­si­dent and
CEO
of the com­pany, sta­ted,
"The objec­ti­ve of the Bous­quet family was to uni­te our tra­di­tion of Euro­pean wine­ma­king with the ideal agri­cul­tu­ral con­di­tions in Men­do­za."
Domai­ne Bous­quet is the only esta­te with sand as its pri­mary soil. Sandy soil drains well and retains heat that helps to pro­du­ce highly aro­ma­tic wines. With mini­mal rain­fall, water deli­very to the vines is con­tro­lled by an irri­ga­tion pro­cess through a drop-by-drop sys­tem with pure moun­tain run-off. This crea­tes lower pH in the gra­pe, resul­ting in higher aci­dity and more color in the wine.
All Domai­ne Bous­quet wines are made from 100% orga­nic fruit ever sin­ce the first vines were plan­ted. Spe­cial atten­tion is always taken to pre­ser­ve the purity of the orga­nic fruit. The bene­fits of a cool cli­ma­te, sandy soil, con­tro­lled water irri­ga­tion, and healthy orga­nic gra­pes, set the sta­ge for qua­lity wines.
Domai­ne Bous­quet Reser­ve Orga­nic Malbec
This wine is a beau­ti­ful blend of 85% Mal­bec, 5% Mer­lot, 5% Syrah, and 5% Caber­net Sau­vig­non. The gra­pes are har­ves­ted from the estate's best plots with low yields. And the wine is aged for ten months in French oak.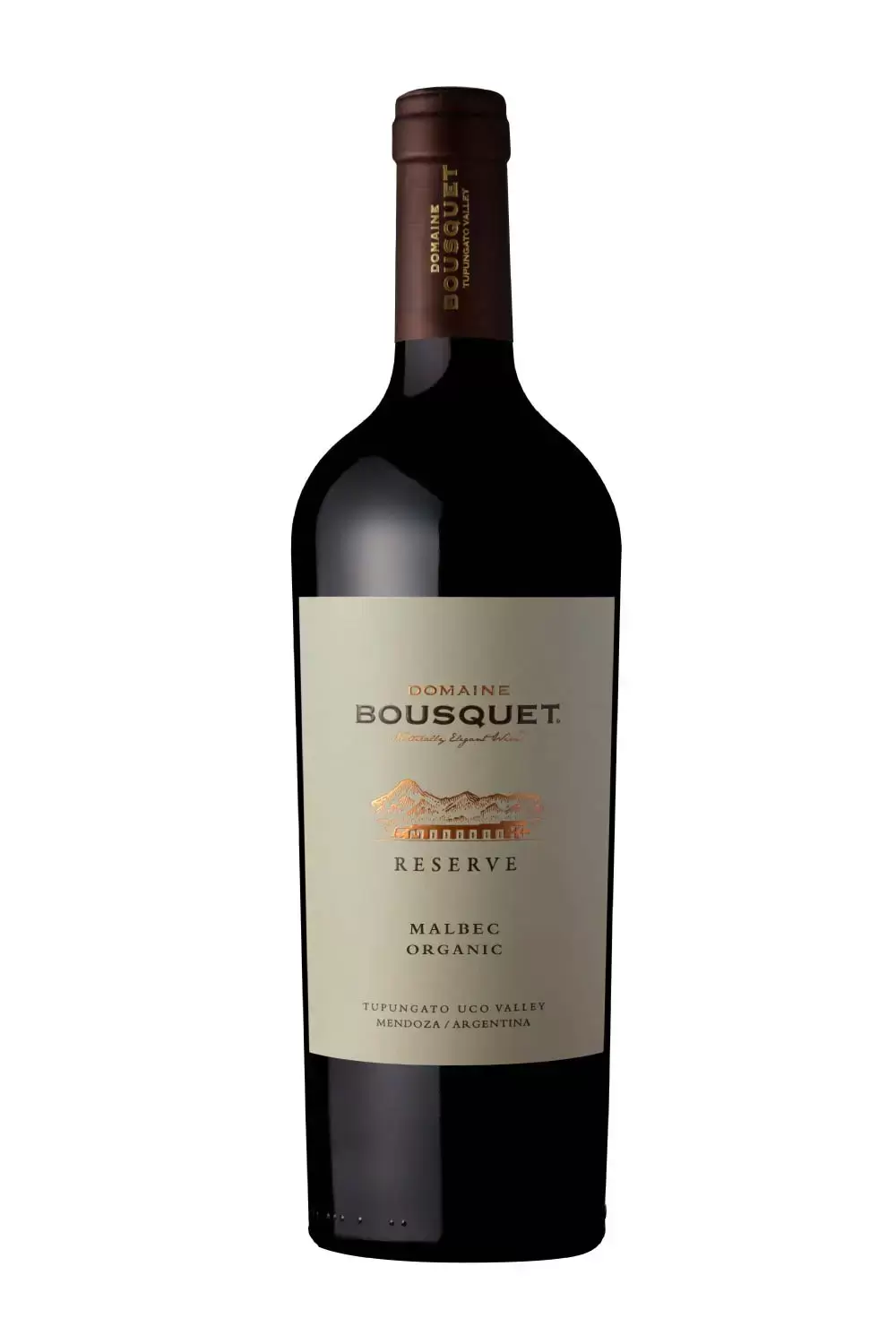 Nose
: Plum, dark berries, spi­ce, and a hint of floral.
Pala­te
: Laye­red with black­berry, rasp­berry, dark cherry, cho­co­la­te, and pep­per with a long finish. Nicely balan­ced with soft tan­nins and good acidity.
Alcohol:
14.5%
SRP
: $15–18
Pai­ring sug­ges­tions
: Gri­lled meat, pas­ta, stews, and sea­red tuna.
Argen­ti­na is the ori­gi­nal home of chi­mi­chu­rri sau­ce, and it is con­si­de­red a hou­sehold sta­ple and always made with fresh, natu­ral ingre­dients. It can be ser­ved as a stand-alo­ne con­di­ment or used as a mari­na­de. Every Argen­ti­ne hou­sehold claims its own ver­sion of the chi­mi­chu­rri reci­pe. But broadly spea­king, green chi­mi­chu­rri (chi­mi­chu­rri ver­de), the most fami­liar ver­sion, is a com­bo of finely chop­ped fresh green herbs and gar­lic blen­ded with oli­ve oil and red wine vine­gar or lemon juice.
​The follo­wing is a clas­sic chi­mi­chu­rri reci­pe, although Anne Bous­quet sug­gests you "feel free to play around a bit and make it your own — just like we do in Argen­ti­na!"

​Chi­mi­chu­rri With Gri­lled Flank Steak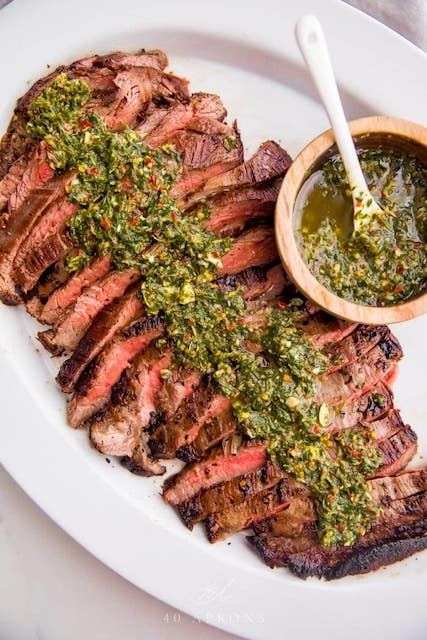 Ingre­dients:
1 small sha­llot cut into wedges
2 gar­lic cloves
¼ cup of red wine vine­gar – or lemon jui­ce if you prefer
¾ cup flat-leaf pars­ley, stems remo­ved and finely chop­ped – or a 50/50 blend of pars­ley and cilantro
1 tbsp fresh ore­gano, stems removed.
¾ cup extra vir­gin oli­ve oil
1 ½ tsp kosher salt
1 tsp freshly ground black pep­per (or you can amp up the heat with a little papri­ka or cayenne)
Ins­truc­tions:
Com­bi­ne sha­llot, gar­lic, vine­gar, and salt in a bowl and let it sit for 10 minutes.
Stir in pars­ley (and/or cilan­tro) and ore­gano, and mash together gently with a pestle.
Whisk in oli­ve oil using a fork, then sea­son with salt and pepper.
In Argen­ti­na, half the chi­mi­chu­rri reci­pe is usually set asi­de and reser­ved as a sau­ce. The remain­der is com­bi­ned with the beef in a cove­red dish and chi­lled for at least three hours or over­night befo­re gri­lling. When ready, remo­ve beef from the chi­mi­chu­rri mari­na­de, pat dry, and grill.
Ser­ve beef with reser­ved chi­mi­chu­rri sau­ce on the side. And don't for­get the wine!
"There's a reason why Mal­bec is Argentina's most belo­ved red wine," says Anne. "Not only does Mal­bec thri­ve in the high desert gro­wing con­di­tions of Men­do­za, espe­cially in our high-alti­tu­de vine­yards in the Uco Valley, but when it comes to pai­ring with steak, few wines can hold a cand­le to the bold aro­ma­tics, abun­dant fruit fla­vor, and smooth tan­nins of Mal­bec, espe­cially with lea­ner cuts such as top sir­loin and flank steak. Nothing spi­ces up a nice, juicy steak like a gene­rous dash of chi­mi­chu­rri sau­ce and a glass of Malbec!"
Until next time…
Salu­dos y dis­fru­ta de tu comida!
Penina
To lea­ve a com­ment or if you have an inquiry, plea­se con­tact me at wineknittercomments@gmail.com