Mark #EarthDay 2023 with one of the world's most sustainably produced wines.
Cele­bra­te this year's #Earth­Day, which takes pla­ce on Satur­day, 22nd April, with Domai­ne Bousquet's Gaia Malbec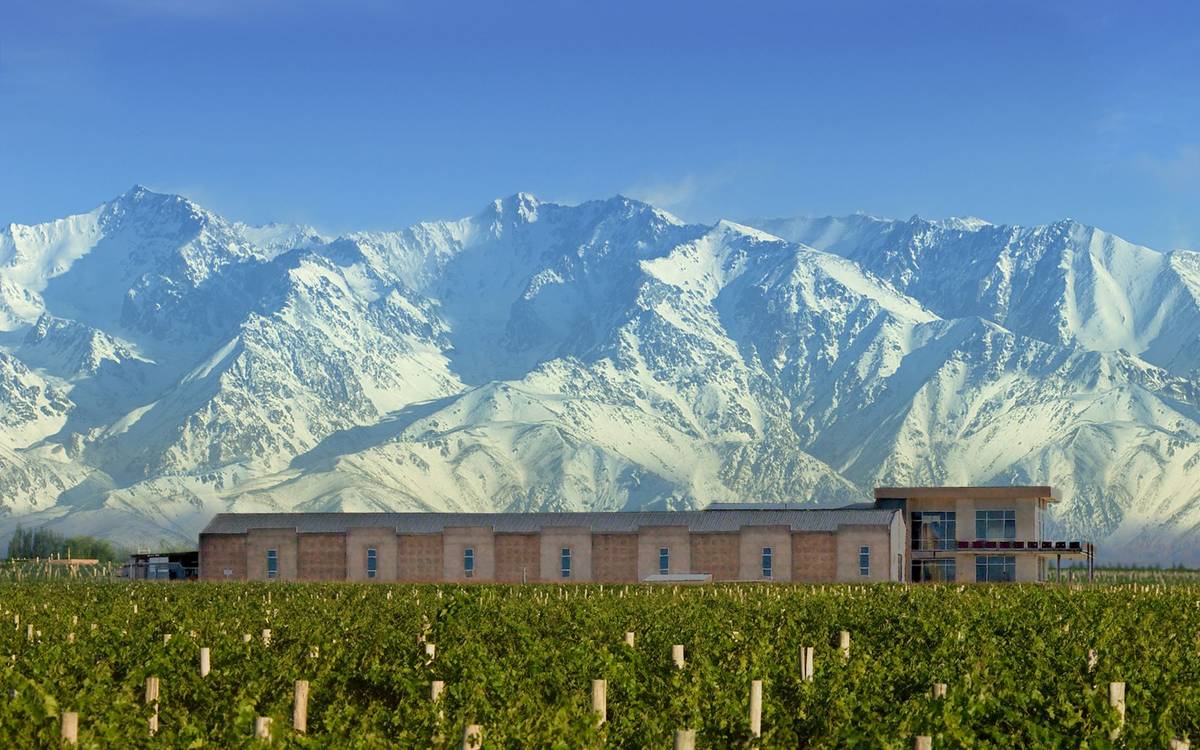 Domai­ne Bous­quet vine­yard, winery and the Andes in the background
Domai­ne Bousquet's Gaia Mal­bec pays tri­bu­te to the Ancient Greek Earth God­dess, Gaia – who fea­tu­res on the label – and ack­now­led­ges the fun­da­men­tal role the earth plays in winemaking.
Gaia has been an ins­pi­ra­tion from the very begin­nings of Domai­ne Bous­quet, a winery which has been a pio­neer of orga­nic viti­cul­tu­re in Argen­ti­na sin­ce its incep­tion and has been cer­ti­fied orga­nic sin­ce 2001. Domai­ne Bous­quet is a foun­der mem­ber of the UK-based Sus­tai­na­ble Wine Round­ta­ble, and recently beca­me the first winery outsi­de of the US to earn Rege­ne­ra­ti­ve Orga­nic Cer­ti­fied sta­tus — one of only four wine­ries world-wide to have this sta­tus. It was cer­ti­fied B Corp sta­tus at the end of 2022.
100% orga­nic
100% vegan
Bio­di­ver­sity in the vineyards
Fau­na (foxes, rab­bits and endan­ge­red spe­cies) are encou­ra­ged with vine­yard water sta­tions to enhan­ce diversity
Ducks at the winery pond balan­ces vege­ta­ti­ve growth
A small flock of sheep was recently intro­du­ced to keep the weeds down

&

for natu­ral fertiliser
Pere­gri­ne fal­cons sca­re off gra­pe-eating birds, ins­tead of using pesticides
Pio­nee­ring bio­fil­ter sys­tem to con­ser­ve water: at trial stage
Light­weight bottles to redu­ce car­bon footprint
Local eco­nomy sup­port; infras­truc­tu­re; edu­ca­tion; career oppor­tu­ni­ties for local population
The gra­pes for Gaia Mal­bec are 100% esta­te grown and sour­ced from the high alti­tu­de Gual­ta­llary Valley in Tupun­ga­to, a sub-region of Mendoza's Uco Valley. The fruit is har­ves­ted by hand and the wine aged in French oak for 10 months.
Gaia Mal­bec 2020 is avai­la­ble via Wai­tro­se at £16.99.
www.domainebousquet.com | www.earthday.org