No synthetic pesticides, herbicides or fertilizers
Water shortage programme & treatment facilities
Organic garden supplies our menu at Gaia restaurant
Gentle handling of the fruit is our principle at the winery
We are dedicated to farming organically while improving our land's biodiversity. We believe that the healthier the vineyard, the better the fruit and, of course, the wine. In other words, by nourishing the land and treating it with respect, we know that the land will give us back its finest fruits.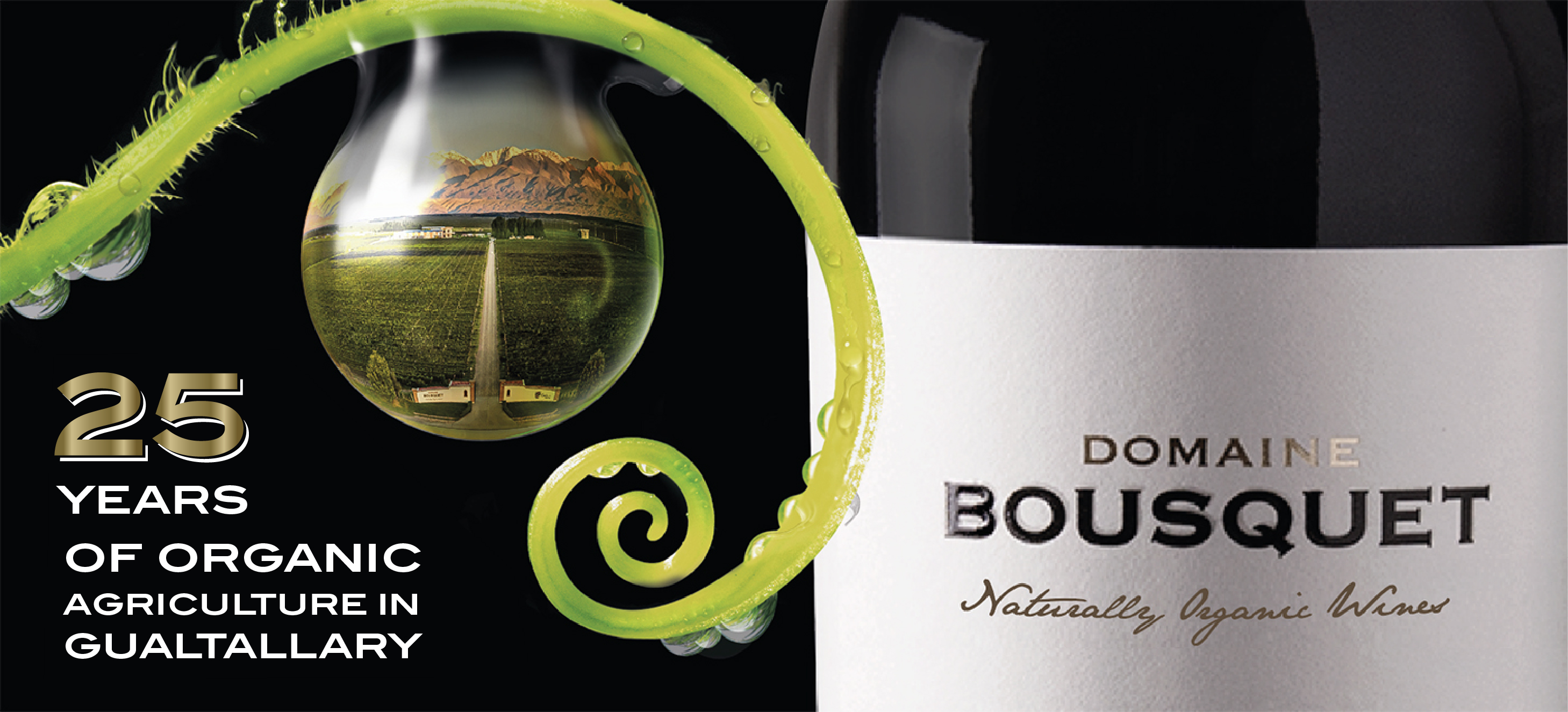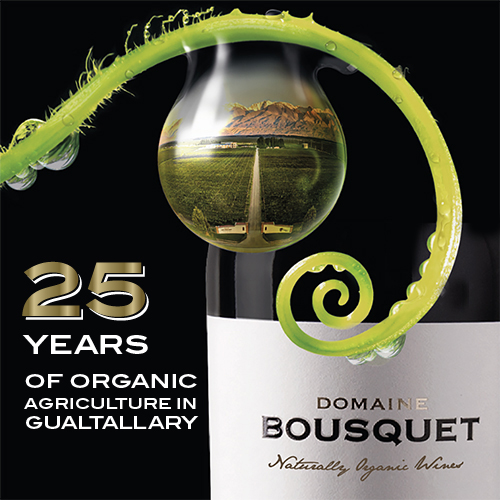 We are Domaine Bousquet, and a quarter of a century ago, we embarked on our journey as trailblazers in the realm of organic farming in Gualtallary. Back then, as we set about planting our vineyards, we did so with a firm conviction and a forward-looking vision of the future we envisioned. Upon our arrival in Mendoza, specifically Gualtallary in Tupungato within the Uco Valley, in late 1997, we encountered a barren landscape of sand and stones an untamed terroir blessed with ideal climate and soil conditions for nurturing organic vines. Today, this terroir stands as the cradle of the finest high-quality wines

In 1998, we initiated the planting of our vineyards, and the organic and sustainable path was the natural choice for us. We grasped the essence of the terroir and its inherent nature, never resorting to synthetic chemical products in our soil management. Today, we transcend being just a winery; we symbolize the safeguarding of both the fruit and the land. We proudly hold the distinction of being the primary producer and exporter of "certified organic wine" in our nation. Moreover, we passionately champion a sustainable and enduring course within our community. Since day one, we have remained steadfastly committed to the pursuit of quality and to being at the forefront of sustainability in all our endeavors.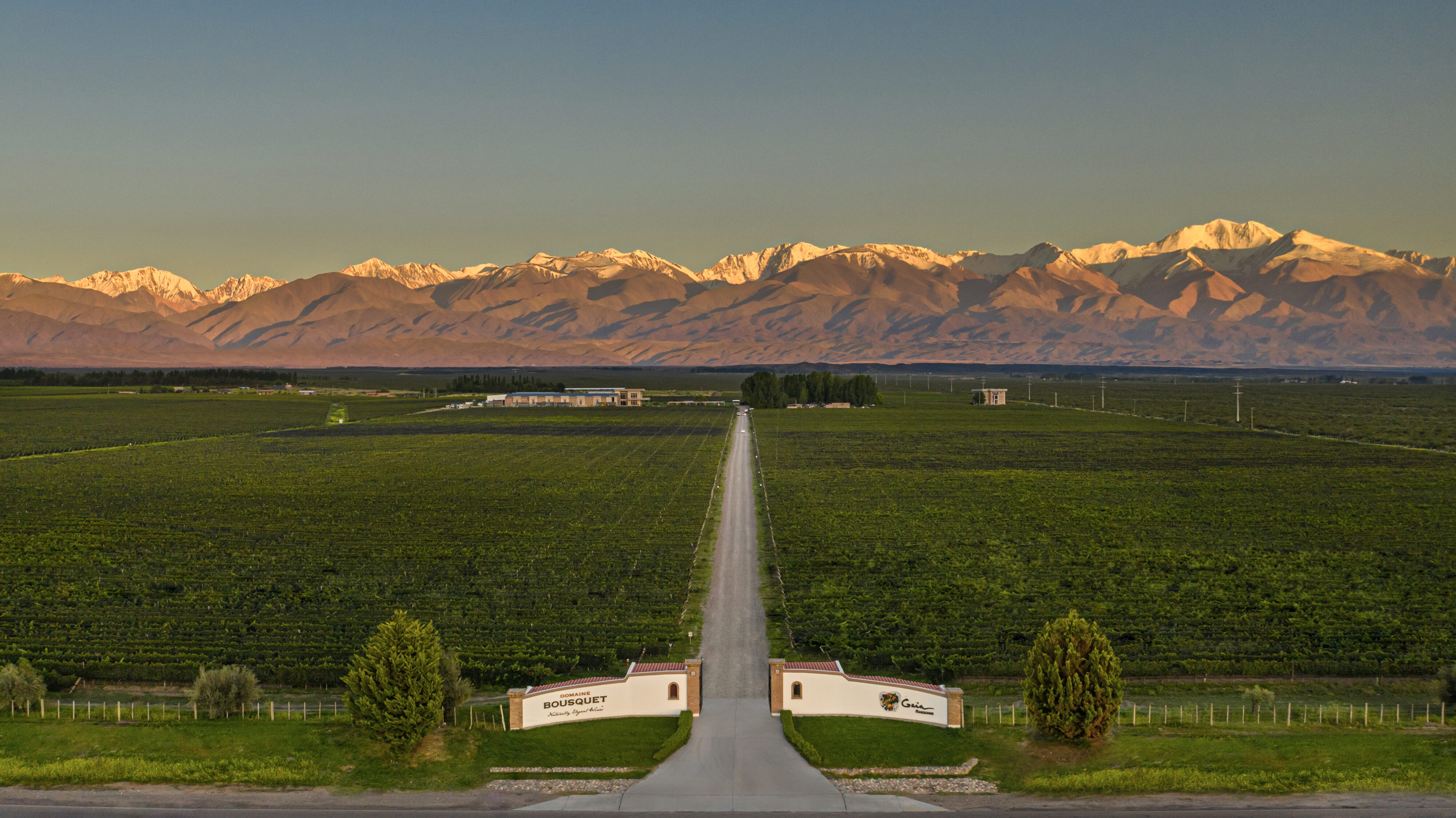 First Argentine winery to achieve Regenerative Agriculture Certification

The original commitment, which began with the certification of our organic practices, led us to become the first Argentine winery and 4 th Globally to obtain the Regenerative Organic Certification (ROC) granted by the Regenerative Organic Alliance. This certification covers three key areas:
◇ Soil Health and Land Management
◇ Animal Welfare
◇ Equity between Farmers and Workers
Regenerative agriculture represents another significant step in our ongoing efforts to improve environmental sustainability and care for our soil. It involves the restoration and enhancement of soil health, which has suffered from human intervention over many years.
The agricultural practices we employ aim to foster a more balanced and nourishing ecosystem.
Within the realm of regenerative practices, we actively promote various natural processes, with a special emphasis on the use of compost. Compost contributes not only organic matter and nutrients but also enhances microbiology and soil structure. Our vineyards hold certifications for organic agriculture (ECOCERT), regenerative (ROC), and biodynamic (Demeter) practices. All our efforts are directed toward cultivating healthy soils, including composting, rotational grazing, and cover crops. We have also minimized soil tillage to encourage root development and beneficial bacteria, reducing the need for external fertilizers. Collectively, these practices help mitigate erosion, preserve organic matter, and boost soil biodiversity and fertility.
Anne Bousquet succinctly defines our philosophy: "By nurturing the earth and treating it with respect, the earth will reward us with its finest fruits." Healthy plants, cultivated through these methods, do not require pesticides. The healthiest grapes yield quality yeast, leading to smooth fermentation. Consequently, we reduce the need for adjustments during the
winemaking process, resulting in wines that express their true character.
Our company is deeply committed to a sustainable future and is actively engaged with the social context that surrounds us. We strive for 360-degree sustainability and proudly hold the B Corp Company certification, which acknowledges our 25 years of dedication not only to environmental stewardship but also to building a sustainable economy for people.
Organic and committed to Quality
We are the main exporting winery of wines made only with grapes certified organic from
Argentina, among the most awarded and with the greatest amount of certifications in the world. We make high quality organic wines, combining French production techniques with the exceptional characteristics of the Gualtallary terroir. With pride, we have
demonstrated to the world our commitment to quality, backed by recognition from major
international publications and critics, sharing rankings with labels of the main regions of the Old and New World, whether from conventional or organic and sustainable production, like ours.
Excellence in composting
It is the key to regenerative viticulture. Good compost provides nutrients and physical
structure of the soil, mitigates erosion, provides better porosity and allows the development of micro organisms and the biodiversity of the earth. Furthermore, it generates the
healthy plant growth, helps with disease resistance and reduces fungicides.
Composting is a form of recycling: we take matter from the ground and return it to better
conditions. It is a vital component in the natural circle of soils.
The animals – sheep, cows, horses, chickens, ducks and local fauna – constitute a excellent source of compost material. Achieving excellence in composting takes time to mature. Our team carries out studies and measurements to control temperature, humidity, pH and the conductivity of the compost evolution, in order to improve the organic matter, better conserve the soil and increase the beneficial interactions between plants and microorganisms in the vineyards.
Our natural path led us to certification of biodynamic practices.
Just as with regenerative agriculture, with biodynamics we seek to give back to the
land of what we take from it when we cultivate. The vitality of the soil is the priority.
The principles of biodynamic agriculture are:
• Work with the rhythms of the earth and the cosmos
• Improve Soil and Plant Health
• Offer regenerative solutions for the future
• Respect the environment and biodiversity
• Contribute to social and economic health
• Treat animals with respect
Under the gaze of biodynamic agriculture, our farm is an organism in which plants, animals,
the cosmos and human beings are together integrated.
Orga­ni­cally nurtered vine roots pene­tra­te deep into the soil whe­re they absorb the tra­ce mine­rals that help give our wines their aut­hen­tic regio­nal tas­te. For this reason, orga­ni­cally grown gra­pes can express the purity, inten­sity and varie­tal cha­rac­ter of the local terroir.
Our orga­ni­cally grown gra­pes offer a qua­lity of fruit and vibrancy of tas­te that is unpa­ra­lle­led in the world of ordi­nary wines. Orga­ni­cally tended vines tend to pro­du­ce lower yields with grea­ter con­cen­tra­tion of fla­vor (unli­ke che­mi­cally fed gra­pes), which allow their uni­que fla­vors to shi­ne through.
Orga­nic crops are grown in har­mony with natu­re wit­hout using che­mi­cals such as pes­ti­ci­des, her­bi­ci­des, and fer­ti­li­zers. Orga­nic agri­cul­tu­re uses natu­ral fer­ti­li­zers such as com­post.
Orga­nic agri­cul­tu­re and pro­duc­tion helps us pro­tect and sus­tain the land and the envi­ron­ment for futu­re gene­ra­tions.